This store requires javascript to be enabled for some features to work correctly.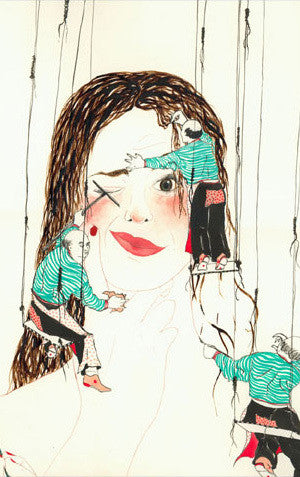 Fernanda Cohen
Fernanda grew up in Buenos Aires, and moved to New York City in 2000 to study illustration at the School of Visual Arts.   Fernanda has illustrated the cover of the New York Times Magazine, and her work has been featured by The New Yorker, Target, Travel and Leisure, Continental Airlines, SONY, MTV, The Guardian, Soho House Hotels, Cosmopolitan, Paper, W Hotels and Harvard Business Review, among others. Her work has received over 50 awards worldwide, including gold and silver medals from the Society of Illustrators of New York and Los Angeles, first prize by Creative Futures (U.K.), Communication Arts, HOW, Graphis, American Illustration, Lurzer's Archive (Austria), Applied Arts (Canada), and Curvy (Australia), among others. Fernanda has also had three solo exhibitions of her personal work: A Taste of Art Gallery in TriBeCa, NYC (2004), Galeria Sonoridad Amarilla in Buenos Aires (2005), and the Consulate of Argentina in New York (2006). Her work has been exhibited in group shows around the world, including the U.S., Germany, Argentina, Singapore, Japan, Italy, Australia and England. Other projects include Fernanda's own line of porcelain, Reina Renée, in Argentina; her collection of post-it notes, "Les Filles," in France; a children's book for the U.S. publishing house Scholastic; Christmas window illustration in Buenos Aires and Manhattan, and her independent line of handbags, Lilah Bags.
Join our mailing list for 10% off
Sign up for our newsletter to get first access to new editions, catch the freshest commentary + features, and snag a special discount.