This store requires javascript to be enabled for some features to work correctly.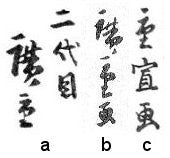 Hiroshige II
Born Suzuki Chinpei, Hiroshige II studied under and was adopted by legendary ukiyo-e master Utagawa Hiroshige (née Ando Hiroshige). During his tutelage, he went by the art-name of "Shigenobu". When Utagawa Hiroshige died in 1858, Shigenobu married his daughter, Otatsu, and adopted the identity of Hiroshige, more commonly referred to as Hiroshige II. The marriage was dissolved seven years later, after which Hiroshige II moved away from Edo and resumed using the name Shigenobu.
Join our mailing list for 10% off
Sign up for our newsletter to get first access to new editions, catch the freshest commentary + features, and snag a special discount.