This store requires javascript to be enabled for some features to work correctly.
Gifts for everyone on your list. Shop the Holiday Gift Guide.

Last call for prints and framed art!
Order by midnight TONIGHT.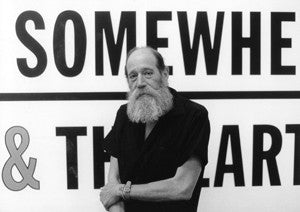 LAWRENCE WEINER
BORN 10 FEBRUARY 1942 BRONX NEW YORK  DIED 2 DECEMBER 2021 MANHATTAN NEW YORK  LAWRENCE WEINER ATTENDED THE NEW YORK PUBLIC SCHOOL SYSTEM  THE LATE FIFTIES AND EARLY SIXTIES WERE SPENT TRAVELING THROUGHOUT NORTH AMERICA (USA MEXICO AND CANADA)  THE FIRST PRESENTATION OF THE WORK WAS IN MILL VALLEY CALIFORNIA IN 1960  LAWRENCE WEINER DIVIDED HIS TIME BETWEEN HIS STUDIO IN NEW YORK CITY AND HIS BOAT IN AMSTERDAM  HE PARTICIPATED IN PUBLIC AND PRIVATE PROJECTS AND EXHIBITIONS IN BOTH THE NEW AND OLD WORLD MAINTAINING THAT: ART IS THE EMPIRICAL FACT OF THE RELATIONSHIPS OF OBJECTS TO OBJECTS IN RELATION TO HUMAN BEINGS & NOT DEPENDENT UPON HISTORICAL PRECEDENT FOR EITHER USE OR LEGITIMACY

Join our mailing list for 10% off
Sign up for our newsletter to get first access to new editions, catch the freshest commentary + features, and snag a special discount.