This store requires javascript to be enabled for some features to work correctly.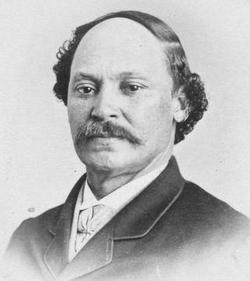 Robert S. Duncanson
Born in Fayette, New York in 1821, painter Robert S. Duncanson is widely considered the first African-American artist to be internationally renowned. The son of a free Black tradesman and carpenter, Duncanson established his own housepainting business in Detroit in 1828. After about ten years, he decided to close the business to pursue portraiture in the Cincinnati area, a region where both the fine arts community and African-American population were flourishing at the time. With no formal art education, Duncanson honed his skills as an itinerant portrait painter, establishing an influential network of support with wealthy abolitionist patrons. Inspired by the Hudson River School style, Duncanson began to progress into landscape painting, a particularly popular genre in the Ohio River area. 
He explored the midwest region extensively with fellow artists T. Worthington Whittredge and William Louis Sonntag, and in 1853 set off on a grand tour of Europe, finding inspiration in new environments, Romantic poetry, and the Old Masters. Duncanson left the United States at the onset of the Civil War, settling in Montreal, where he is credited as inspiring a new generation of Canadian landscape painters. His work was widely praised throughout North America and Europe with the
London Art Journal
declaring him a "true master of landscape painting" in 1865.
Join our mailing list for 10% off
Sign up for our newsletter to get first access to new editions, catch the freshest commentary + features, and snag a special discount.