This store requires javascript to be enabled for some features to work correctly.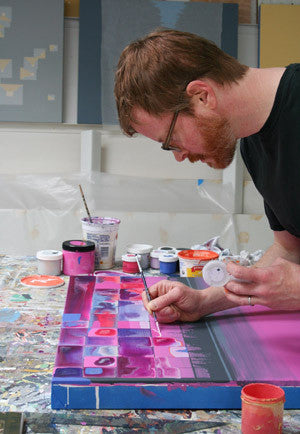 William Swanson
William Swanson was born in Chicago, Illinois, in 1970. He graduated from Rhode Island School of Design in 1992 with a BFA in painting.  Swanson has had recent solo exhibitions at DCKT Contemporary, New York, in 2009; Marx & Zavattero, San Francisco, in 2008; and Walter Maciel Gallery, Los Angeles, in 2007. Select group exhibitions include Future Tense: Reshaping the Landscape at The Neuberger Museum of Art in Purchase, NY, in 2008; Back in Black at Cohan Leslie and Browne, New York, NY, in 2003; and Bay Area Now 3 at Yerba Buena Center for the Arts, San Francisco, in 2002.  His work has been reviewed and featured in many publications, including Art In America, ArtNews, the Los Angeles Times, Anthem, Artweek, Hot And Cold, and art ltd. His pieces are in many collections, including the West Collection and the Progressive Art Collection. Swanson currently lives in Oakland with his wife, Alena, and daughter, Elsa.
Join our mailing list for 10% off
Sign up for our newsletter to get first access to new editions, catch the freshest commentary + features, and snag a special discount.