This store requires javascript to be enabled for some features to work correctly.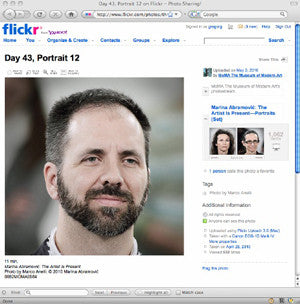 Greg Allen
When Allen quit his real job to take up filmmaking full time, he started what turned out to be the first film and art blog. Since 2001, 
greg.org: the making of
has served as a platform for documenting his own creative process and for exploring the artists, projects and history that inspire him. As a contributor to the 
New York Times
, 
Cabinet
and other publications, Allen investigates the anomalies of making, showing and collecting contemporary art. He has published three books on the 
Cariou v. Prince 
copyright infringement case, including the complete  transcript of Richard Prince's 2009 deposition. 
Exhibition Space
, his 2013 show at apexart, traced the origins of conceptual photography and Minimalism through NASA's first satellite mission, Project Echo, surveillance, and the politics of the Space Race. He has also curated exhibitions at Exit Art and The Drawing Center, and has shown his work at the Walker Art Center in Minneapolis, and at Postmasters, 601 Artspace, and Clementine Gallery in New York City. Installments of 
The Souvenir Series
, his 12-part documentary about memory, have screened at various film festivals, including Documentary Fortnight, Interfilm Berlin and Palm Springs IFF. His wife is an astrophysicist. They have two kids.
Join our mailing list for 10% off
Sign up for our newsletter to get first access to new editions, catch the freshest commentary + features, and snag a special discount.