This store requires javascript to be enabled for some features to work correctly.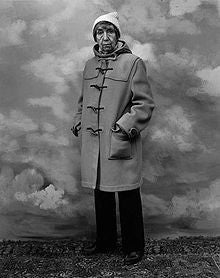 Berenice Abbott
Berenice Abbott was an American photographer best known for her black and white photography of New York City architecture and urban design of the 1930s. Abbott was born in Springfield, Ohio. She attended the Ohio State University, but left in early 1918. Abbott went to Europe in 1921, spending two years studying sculpture in Paris and Berlin. In addition to her work in the visual arts, Abbott published poetry in the experimental literary journal transition. Abbott first became involved with photography in 1923, when Man Ray, looking for somebody who knew nothing about photography and thus would do as he said, hired her as a darkroom assistant at his portrait studio in Montparnasse. In 1926, she had her first solo exhibition (in the gallery Au Sacre du Printemps) and started her own studio on the rue du Bac. In early 1929, Abbott visited New York and was struck by its photographic potential. She moved to the city and began work on her New York project, which she worked on independently until 1935, when she was hired by the Federal Art Project as a project supervisor for her Changing New York project. She continued to take the photographs of the city, but she had assistants to help her both in the field and in the office. This arrangement allowed Abbott to devote all her time to producing, printing and exhibiting her photographs. By the time she resigned from the FAP in 1939, she had produced 305 photographs that were then deposited at the Museum of the City of New York.
Join our mailing list for 10% off
Sign up for our newsletter to get first access to new editions, catch the freshest commentary + features, and snag a special discount.