This store requires javascript to be enabled for some features to work correctly.
Gifts for everyone on your list. Shop the Holiday Gift Guide.

Last call for prints and framed art!
Order by midnight TONIGHT.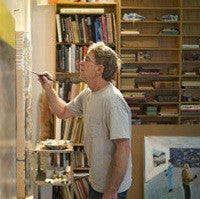 William Wegman
A pioneer video artist, conceptualist, photographer, painter and writer, William Wegman moves fluidly among various media: from conceptual works to commissioned magazine shots; videos shown in museums to television segments made for Sesame Street and Saturday Night Live; artists' books to children's books and from photographic collaborations with his Weimaraner muses to his most recent cycle of paintings combining found postcards with drawing, collage and painting. Recent exhibitions of his work include
William Wegman and California Conceptualism
at the Metropolitan Museum of Art and
William Wegman: Being Human
, a traveling exhibition of thirty years of photographic work. Learn more about William through our
In the Studio interview
!
Join our mailing list for 10% off
Sign up for our newsletter to get first access to new editions, catch the freshest commentary + features, and snag a special discount.