This store requires javascript to be enabled for some features to work correctly.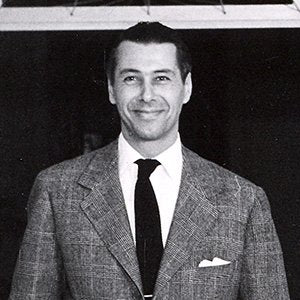 Herbert Bayer
Herbert Bayer (1900-1985) was an Austrian-American graphic designer well known for his Bauhaus style in printing and advertising. A true jack-of-all-trades, Bayer was a skilled painter, photographer, sculptor, environmental and interior designer, typography and font designer, and architect. Bayer studied for four years at the Bauhaus under Wassily Kandinsky and Paul Klee, later becoming director of printing and advertising at the school. He left the Bauhaus in 1928 upon his appointment as art director of Vogue Berlin. Bayer remained in Germany until 1937, when works of his were included in the Nazi propaganda exhibition "Degenerate Art", prompting him to flee.
In 1946, Bayer moved to Aspen, Colorado and began working as an architect, co-designing the Aspen Institute and restoring the Wheeler Opera House. However, it was his promotional posters for skiing that truly propelled his reputation as an artist and designer. After building a close friendship with American businessman Robert O. Anderson, Bayer became instrumental in the formation and development of the Atlantic Richfield Company Art Collection, which grew to nearly 30,000 works nationwide. Bayer's personal collection of his own works were donated to the Los Angeles County Museum of Art upon his death.
Join our mailing list for 10% off
Sign up for our newsletter to get first access to new editions, catch the freshest commentary + features, and snag a special discount.